ABOUT
Pittman Terrace is a steep neighborhood that sits on Lake Tahoe's east shore directly below US Highway 50. For over a decade, residents in the neighborhood have expressed concern about sediment laden stormwater runoff traveling through their neighborhood and into Lake Tahoe. In 2015, the Nevada Tahoe Conservation District applied for and successfully received funding to plan, design, and construct the Pittman Terrace Water Quality Improvement Project (WQIP). The primary goal of the Pittman Terrace WQIP (Project) is to treat stormwater before discharge to Lake Tahoe. The Project will employ a combination of stormwater treatment, outfall stabilization, and road operations in both NDOT Right-of-Way and the lakeside Pittman Terrace community. PLRM v1.1 Baseline modeling indicates the NDOT HWY 50 catchment is a high priority catchment due to being a high pollutant loading and directly connected catchment.
The objectives are as follows:
Stabilize the eroding channels and dirt paths within the Pittman Terrace neighborhood to convey runoff from Highway 50 without contributing additional pollutants and transporting those pollutants to Lake Tahoe.

Partner with the Pittman Terrace Homeowners to install stormwater treatment infrastructure in conjunction with their planned road repaving project.

Through PLRM modeling and catchment registration, garner Lake Clarity Credits for NDOT and Douglas County.
PHOTOS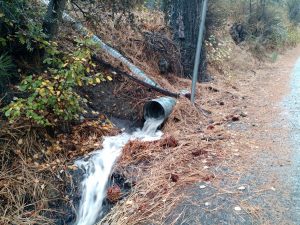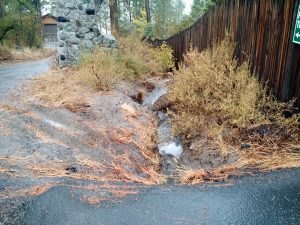 LINKS AND DOCUMENTS
Bid and Final Design Documents 
Archive Documents (oldest first)